Posted on
By Trendy Blinds Inc.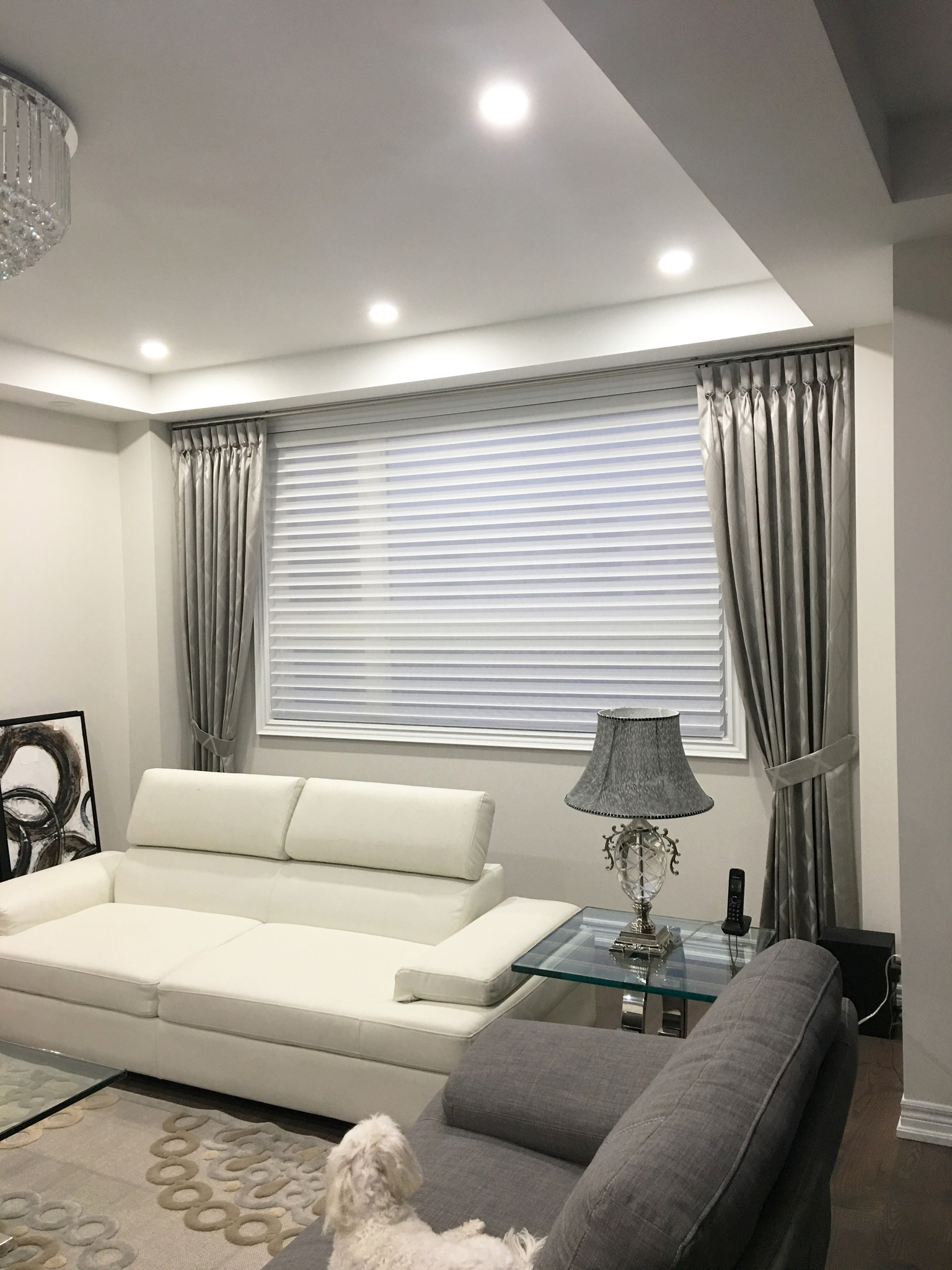 With blinds alone, the window treatment often times look incomplete. Adding drapery and valances can enhance the look of the windows, achieve golden ratio proportions, make ceiling appear taller, etc.
Blinds, especially the soft fabric shades, are cost effective solutions to covering many windows in the house or condo.  With the wide range of types, light control capabilities and colour and finishes, one can find a blind solution for virtually all the windows in the home.
However, with blinds alone, the window treatment often times look incomplete, especially for the important windows in the home, like the Living Room, Dining Room, Family Room, Master Bedroom and even Study Room.
Adding drapery and valances can enhance the look of the windows, make the window proportions appear closer to the golden ratio, make ceilings appear taller, give a feeling of warmth, and tie in with the rest of the home decor and furnishings.
Let's take a quick look at a living room application of drapery and valance:
Scenario 1: Nice high quality window shades in a popular grey tone.  It provides functional benefits of Top-Down Bottom-Up operation and is aesthetically pleasing.  However, there appears to be a lot of blank wall space, especially above the windows.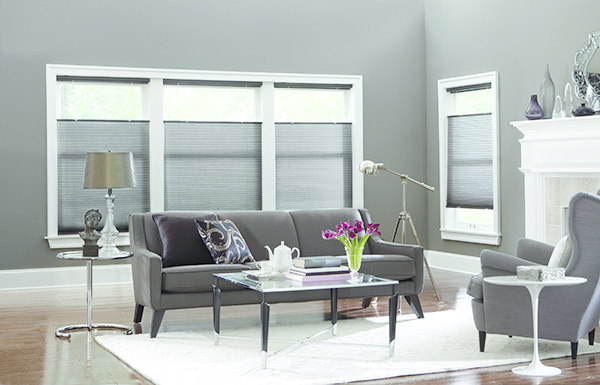 Scenario 2: We now add side panel drapes.  The windows appear a bit taller and wider and more of the bare walls are covered.  Most homeowners typically go with side panel drapes for important windows to complete the look.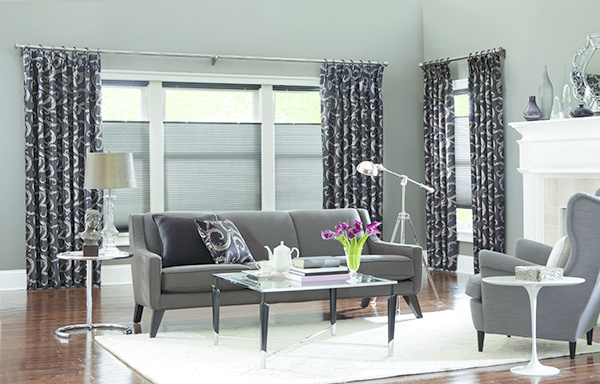 Scenario 3: We add a valance to cover up the drapery hardware and the window shade headrails.  Now the windows appear fully framed and the 3 window section appears as a integrated whole.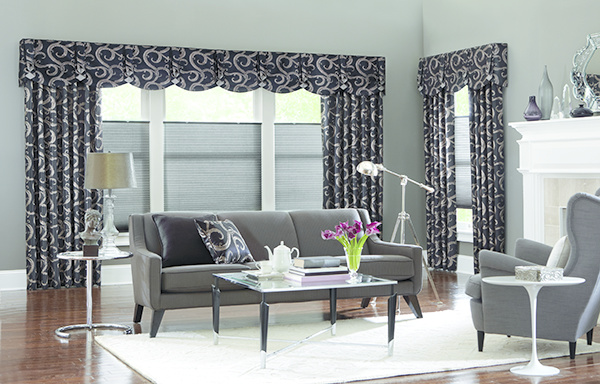 MODERN LOOK
Some homeowners prefer a more modern look and are worried that adding drapery and/or valance will make the room look too traditional.  The good news is that at Trendy Blinds, we offer modern approaches to drapery and valance making and application that gives a modern yet dressy look to any window.
MODERN WAVE DRAPERY
In this example of a modern home office, the homeowner uses a modern desk and chair. However, the room windows are too small in proportion to the size of the wall and room and the ceiling appears low due to the low position of the top of the windows.  We used end-to-end Modern Wave drapery with ceiling mounting decorative track hardware to fully emphasize the height and width.  Modern Wave does not use any visible top treatment like pleats or grommets thus giving a cleaner look.  Unlike ripplefold drapery, Modern Wave drapery stacks tight when drawn opening, maximizing outside views.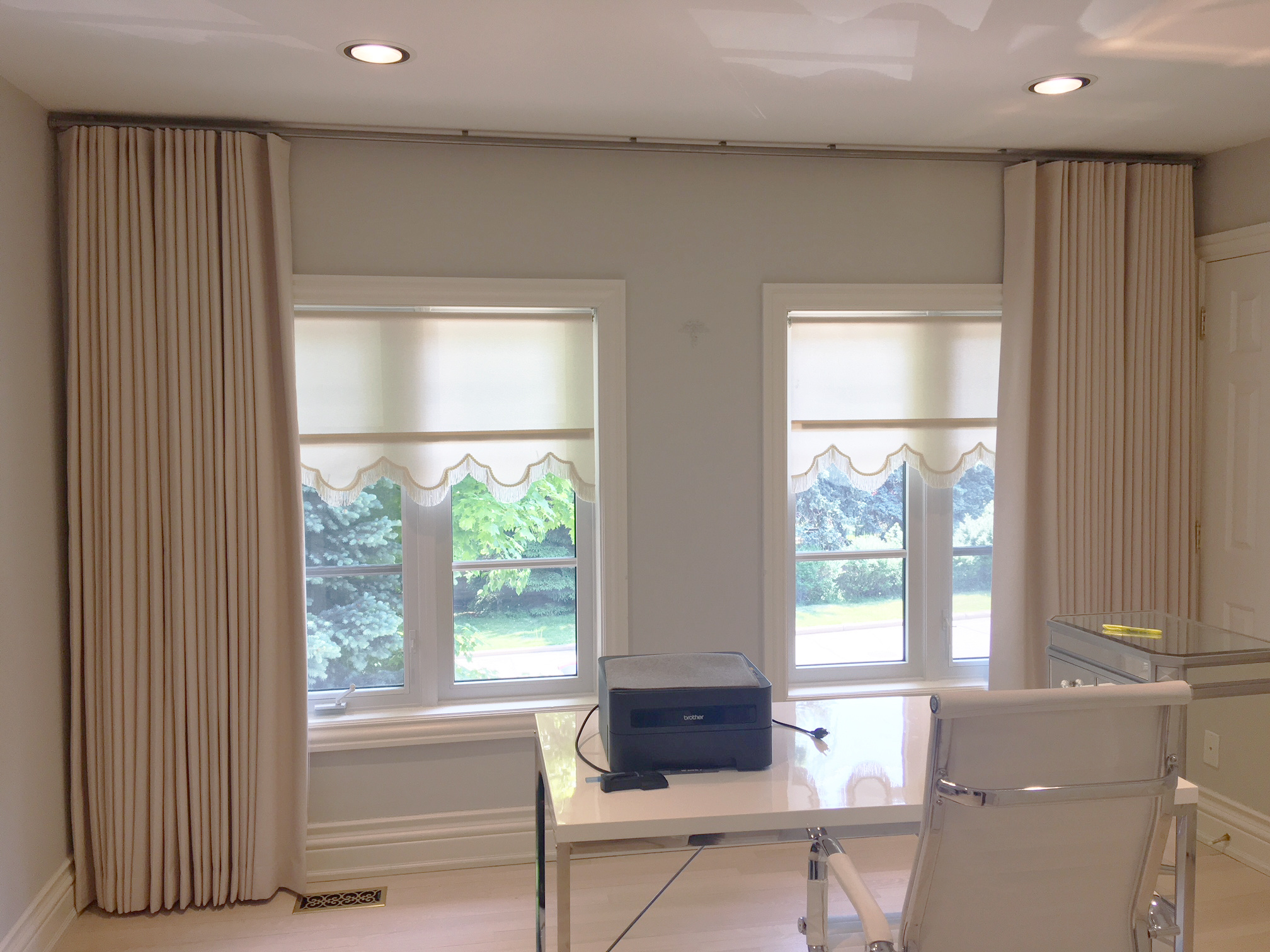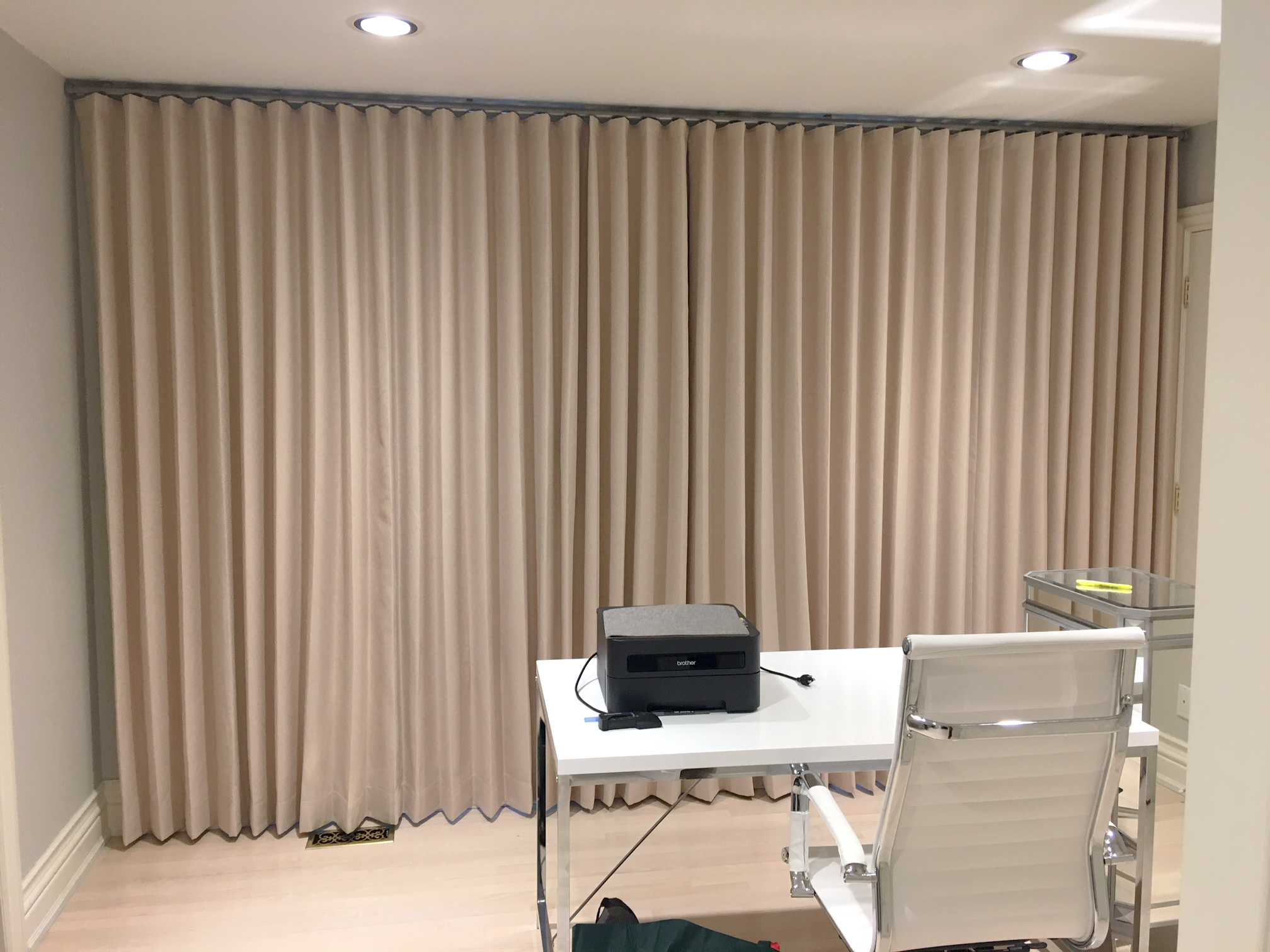 Other examples of Modern Wave drapery applications:
Master Bedroom French Doors - full blackout Modern Wave drapery.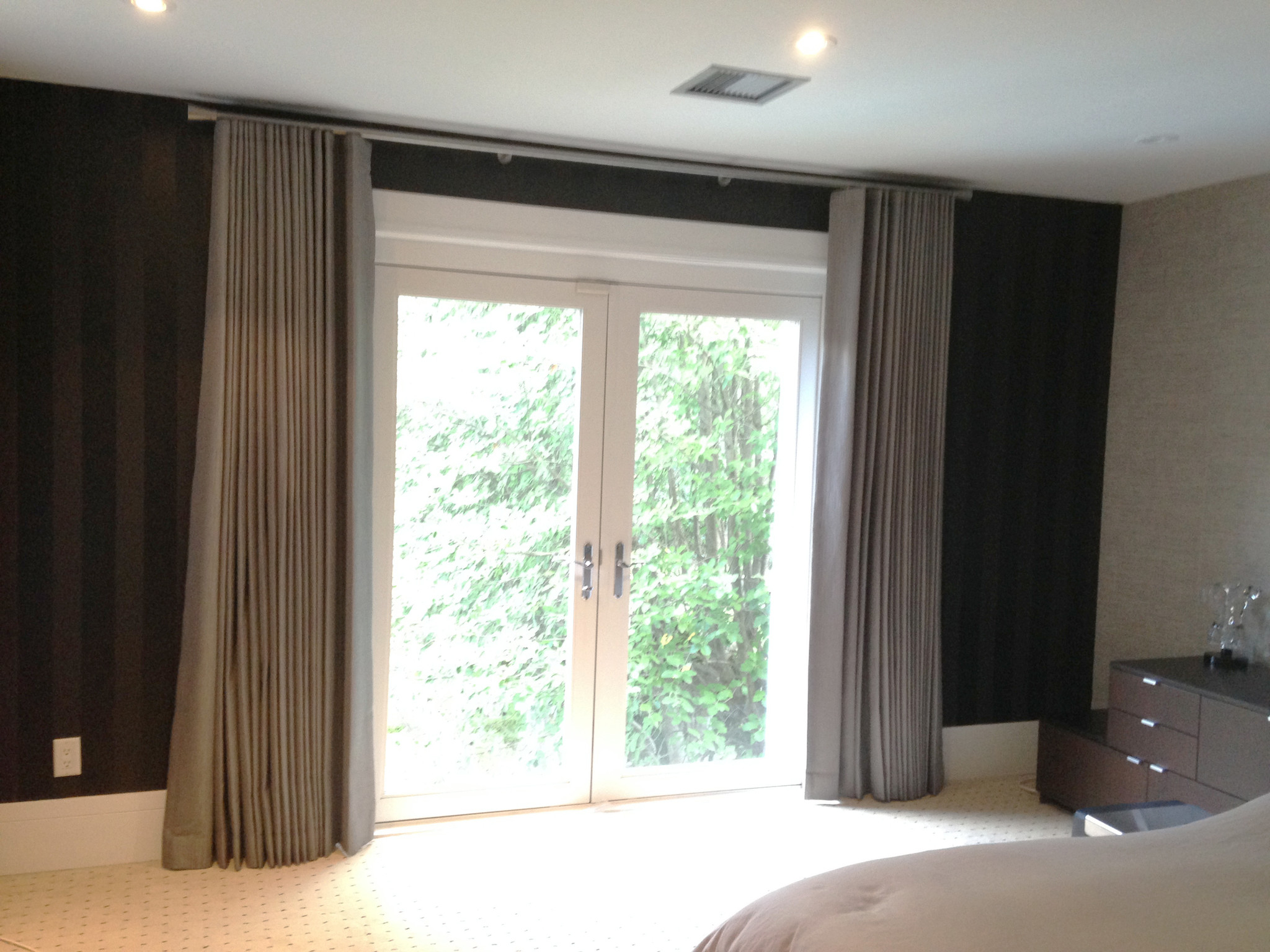 Modern Wave Sheers for Condo- offer daytime privacy and outside views at the same time.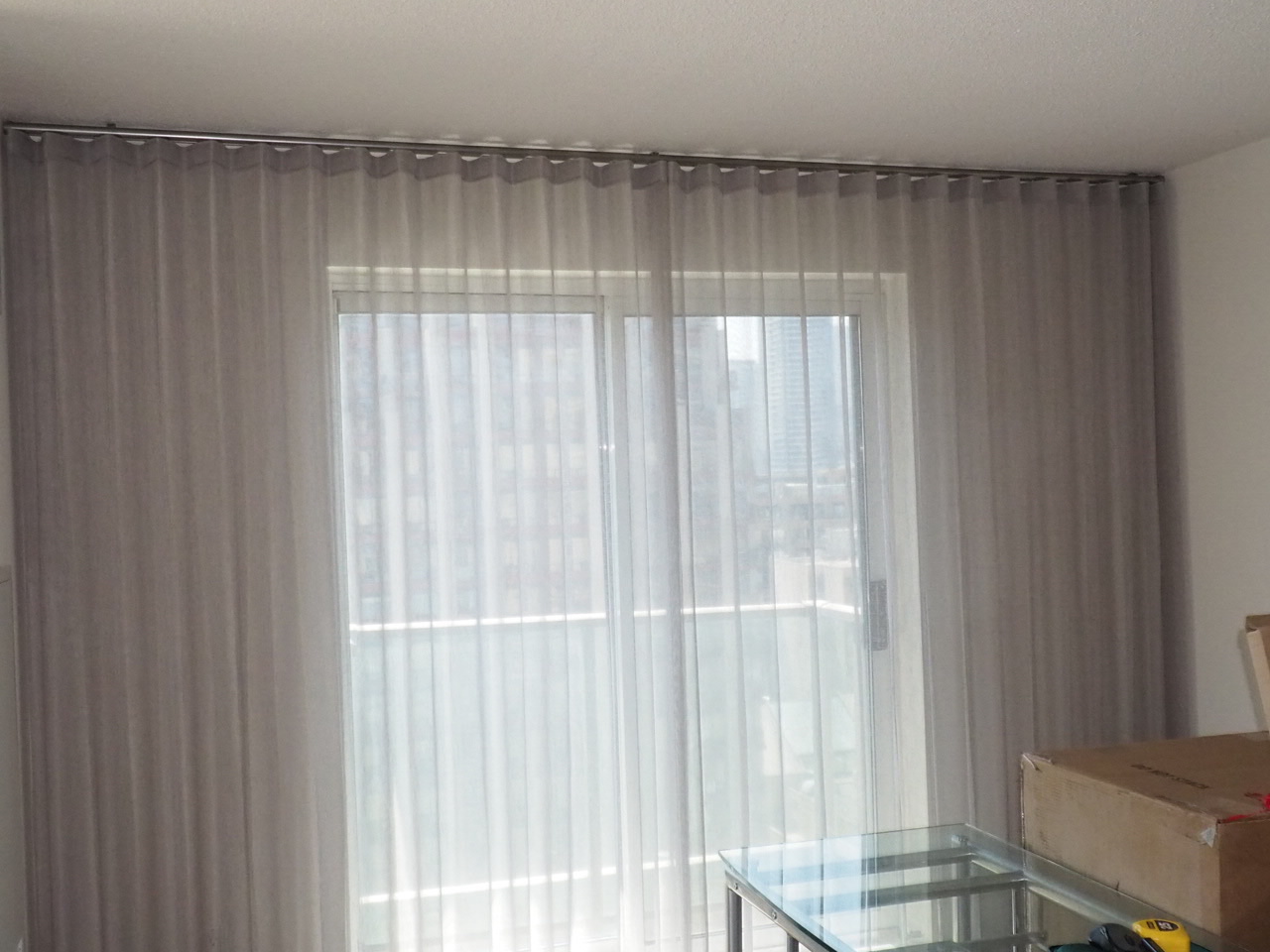 Fixed Modern Wave Side Panels for Dining Room(actual window width ends before the panels).  Golden Ratio achieved.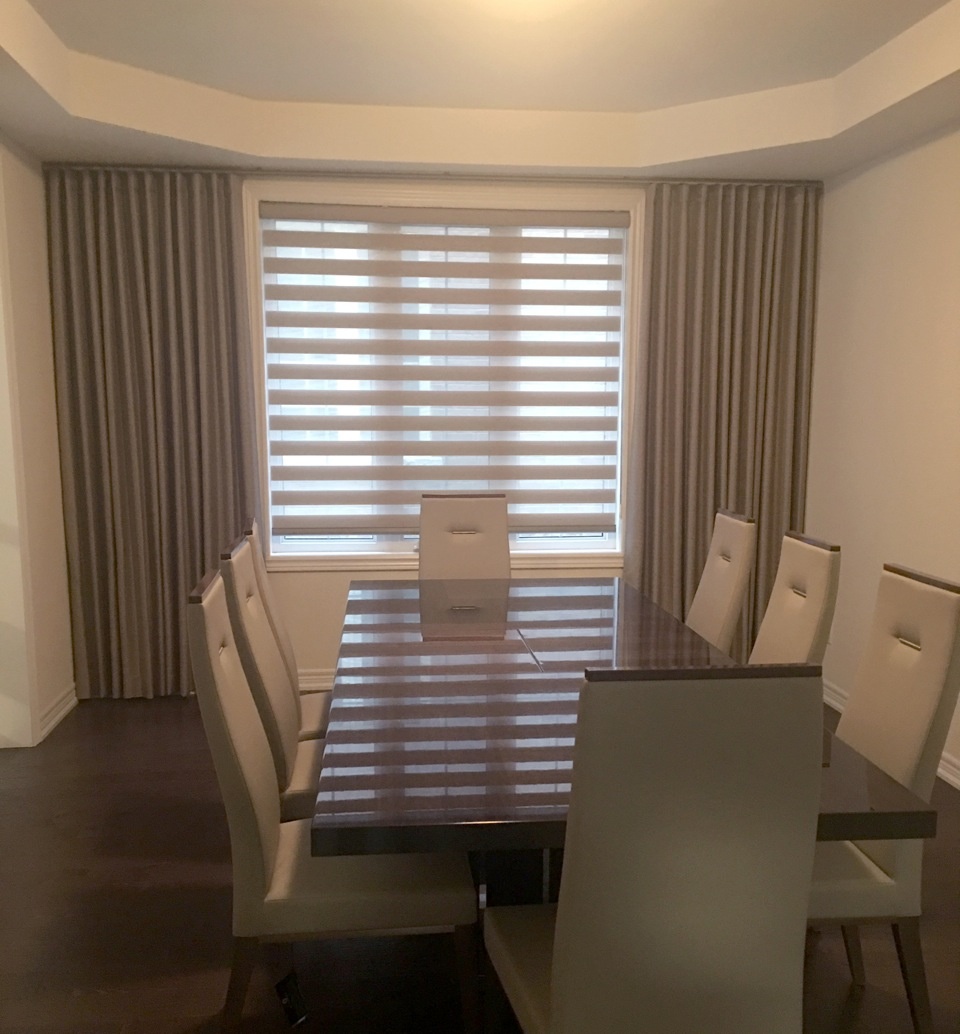 MODERN VALANCES
Using a Box Valance provides a clean modern approach to hide the double drapery tracks for the sheers and blackout drapery in this romantic master bedroom.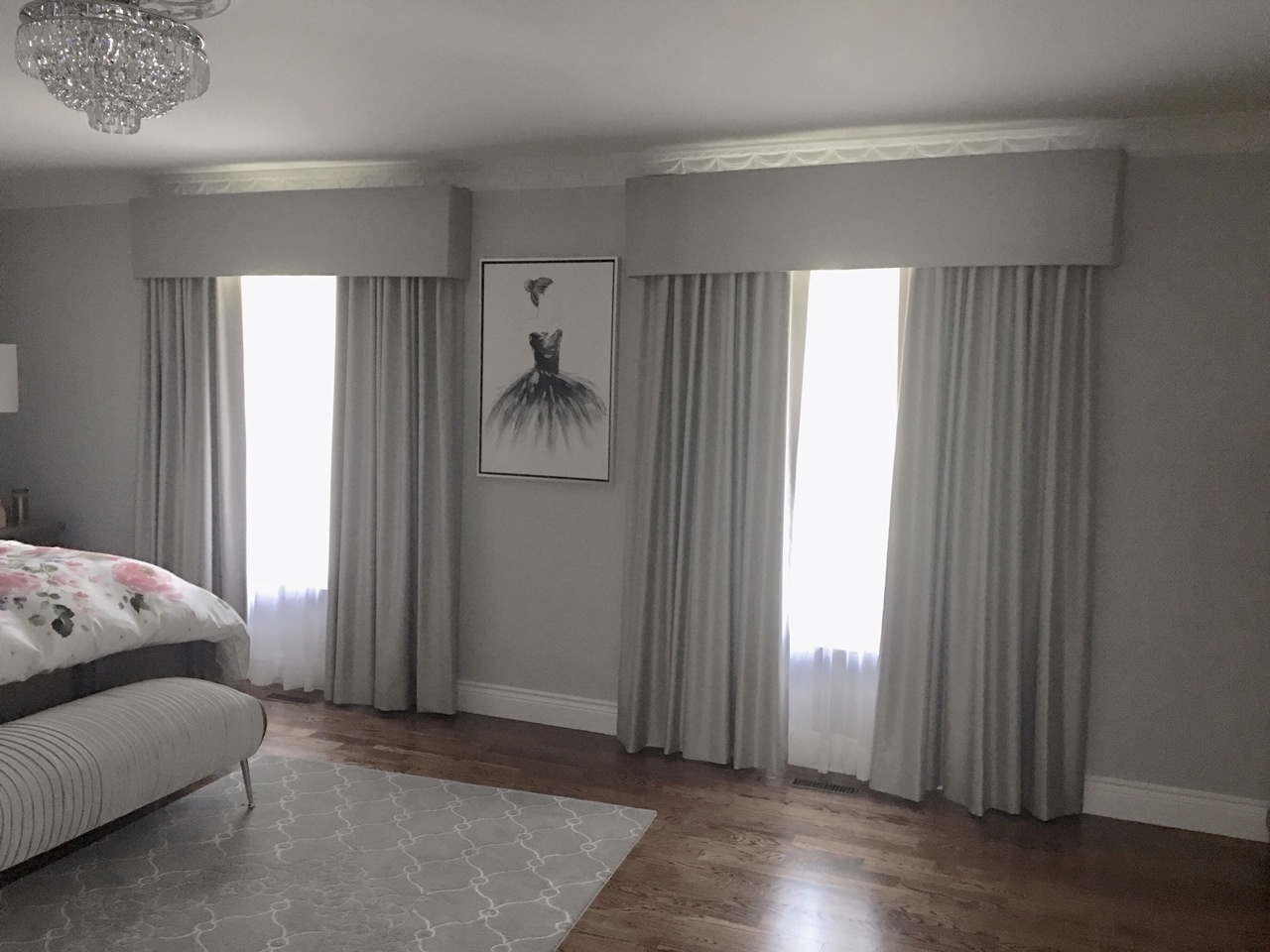 Box valance does not need to be all straight edges or uses in bedrooms of living rooms only.  This valance was used for a small washroom window: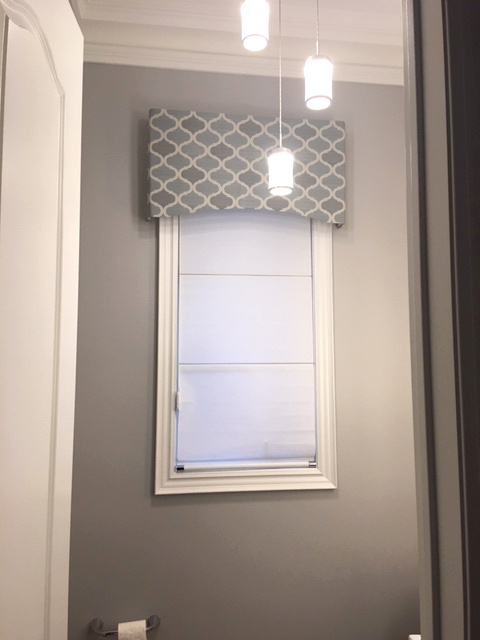 Valances can be paired with very modern looking blinds too.  Below is a Box Pleat Valance paired with a panel track blind.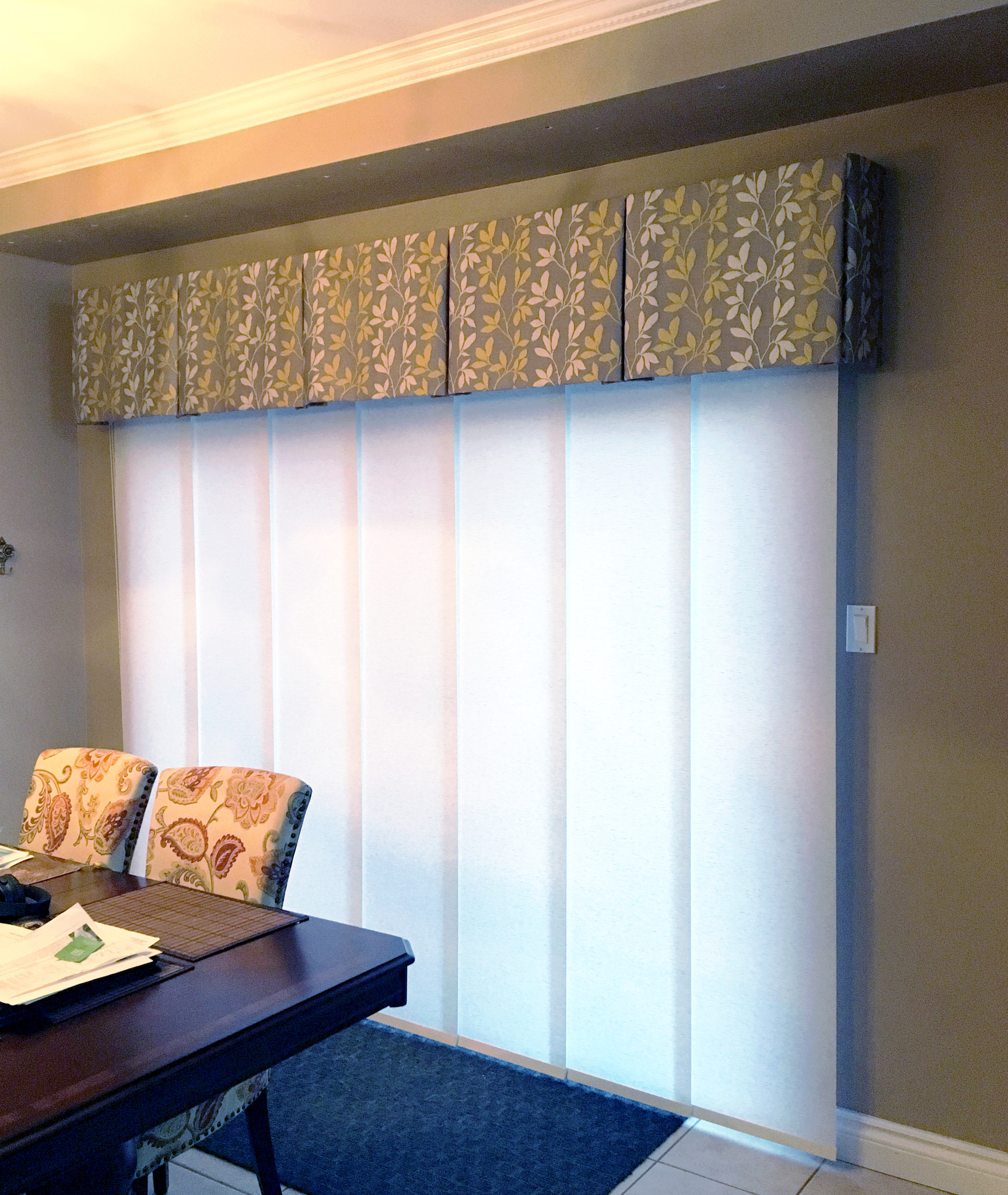 Flat Valance for Arch windows can provide the blackout effect needed for bedrooms and can be paired with our Combi Blinds below.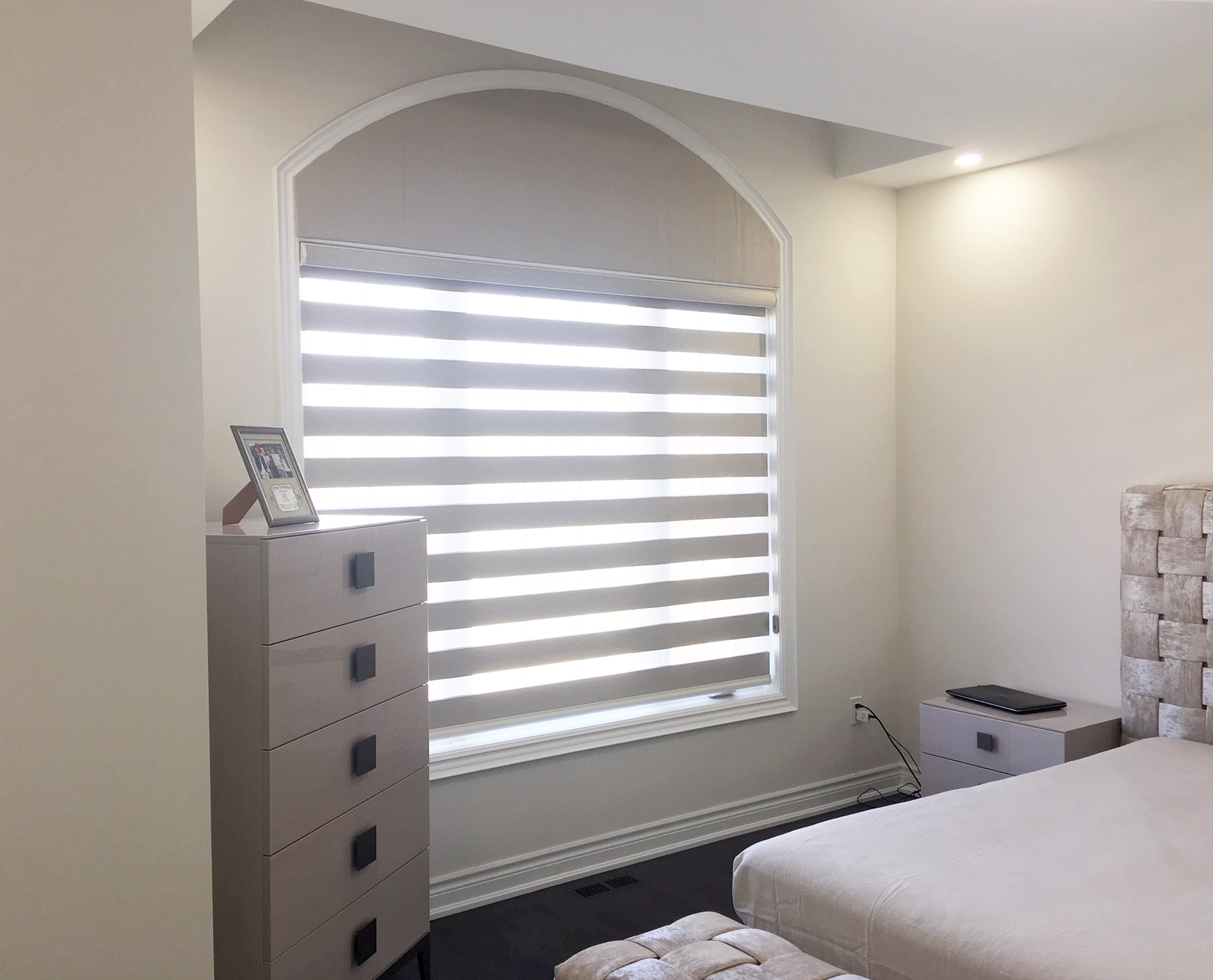 Double Pleat Box Valance with 2 fabrics in an Inside Mount Application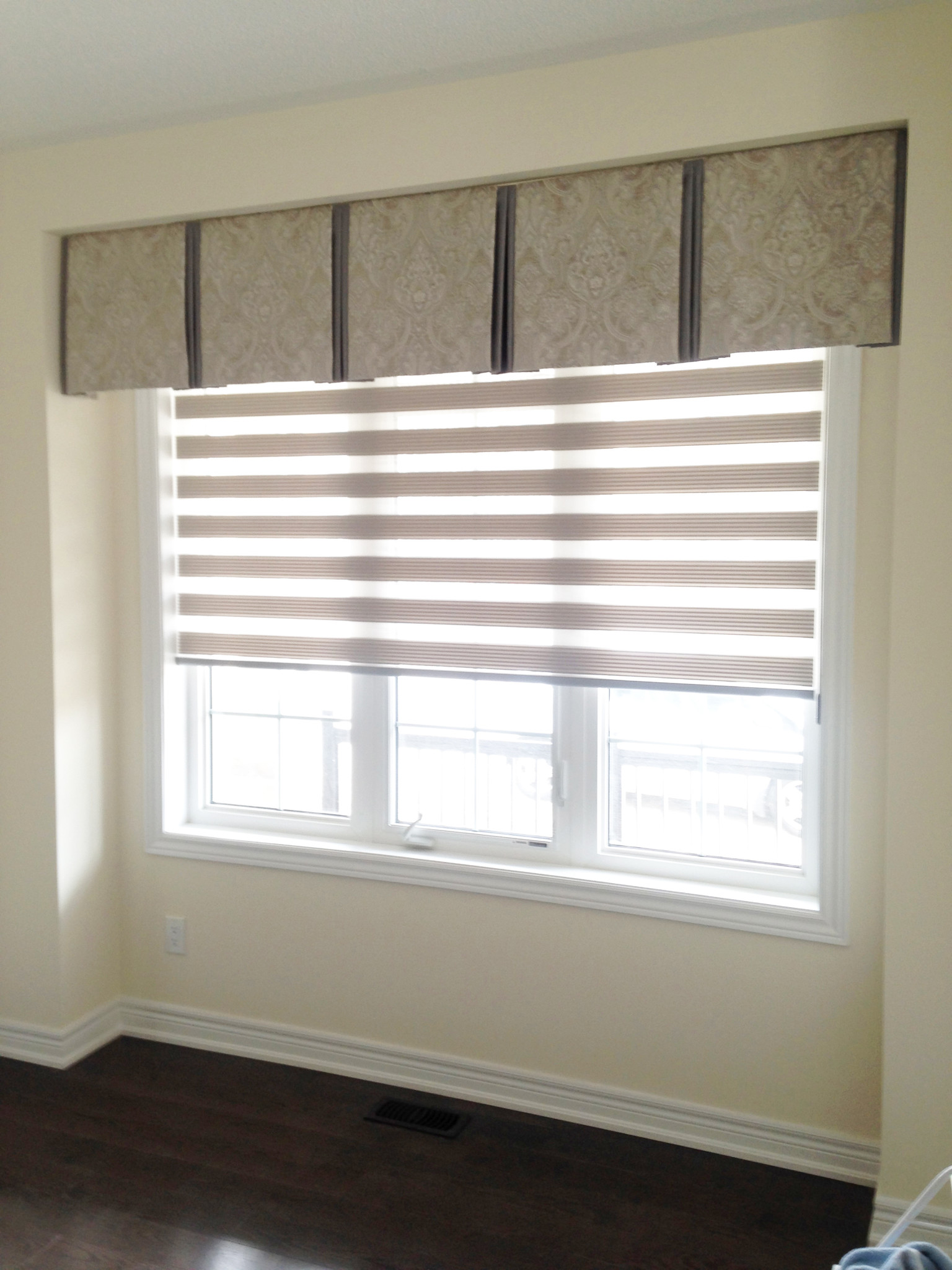 At Trendy Blinds, we can provide design advice for your home.  Visit our showrooms today.  You can also call us at 905-604-1222 or email at [email protected]
For Showroom locations and hours click HERE
To book an appointment fill up online FORM